For forty years, (yes, that does date me) I have been the parent or caregiver of persons who have lived through complex life trauma. I began parenting as a foster parent and my husband and I adopted a little person who joined our home as an unattached, failure to thrive infant. At five months she had already lived with four caregivers since her mother had passed away and from the beginning she was an adventurous child.

As as a parent or caregiver of persons who have come from or live in hard places there can be many days of struggle. When the world does not recognize invisible disability days become a series of misunderstandings, frustrations and overwhelmed feelings. I want to help you find balance.
If you look at the odd shaped pearl in the photo flying "out of the box" is represents wisdom I have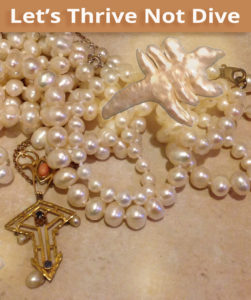 learned to cherish on this journey. It's a REAL pearl from an oyster that has had to do very hard work in dealing with the rough adventures in life. I love that pearl because it represents my life in all it's luster and beauty and odd configurations. Real pearls pass the friction test and feel gritty when rubbed together, not smooth. Real pearls have flaws, imperfections, and slight variances in color, shape, and texture.

When a particle becomes lodged inside an oyster or mollusk, the animal reacts by secreting a type of calcium carbonate, along with some organic material, to smooth over it. You can see how much smoothing my poor little wild pearl had to do! This process creates layers around the particle: an iridescent coating called nacre. Together, the particle and nacre constitute a pearl. Depending on factors such as the size of the particle and the pearl, this activity can take years to complete.
My wild and crazy shaped pearl is the symbol that reminds me how important it is that I share as a beacon of hope the "Wisdom I have learned on this very difficult and adventurous parenting path."
Please,  Join me on this next life adventure
My latest posts
"The work the Kulp family tackled in their brain training home school has been replicated around the world. Their books provide more than the strategies that these pioneers in FASD have discovered. I am ecstatic over their work in Live Abilities and what they have done to help make a difference for young adults and adults to thrive and gain purposeful living."
"And now the new RealMindz program, which is unique in bringing together knowledge from those who have been toiling in the trenches. Their deep belief in the strength of the spirit keeps shining. "
"There are few pioneers who must not only pave the path for others to follow…but also must define the landscape to illustrate its existence. Jodee Kulp has written and published more books about Fetal Alcohol Spectrum Disorders than any other parent advocate in our time. Her work has provided assistance to thousands of families and individuals living with FASDs."
"Jodee's expertise and experience is surpassed only by her creative insight in presenting difficult information in a unique and entertaining manner.
"I have been working with FASD for over 30 years. During that time I have met very few people who have an understanding of this disability the way that Jodee Kulp has. Even more rare are the people who have the understanding of adolescents and adults with FASD that Jodee has."
"I can not recommend her enough for any project she may choose to involve herself in. A project involving adolescents and adults with FASD must have someone like Jodee Kulp to make it truly successful."